Threading & Couplers
Threading
Dimension Fabricators can thread from #4 to #18 bar in plain, epoxy coated and galvanized.
Couplers
Couplings and connectors are used in many structures for a variety of reasons. For example, bridges are often built in a phased sequence. Couplers are often employed where laps and splices would be cumbersome, or costly to install.

We stock a variety of couplers including set-screw types, threaded or even swaged solutions. Ask us, we've probably seen the problem before!
Mechanical Couplers
One of the Northeast's largest User/Supplier of Mechanical couplers, Dimension Fabricators has a solution for your connection needs. We stock #4 through #18 Mechanical couplers to minimize your delays.
HRC Couplers
When standard hooks or headed bars cannot be prefabricated.
HRC couplers behave like non-spliced bars and has consistently been proven to be the strongest splice on the market. The couplers were designed to exceed the stress and strain capacity of the reinforcing bar while easily adapting to ever-changing field conditions. They work on bent and radius bars as well as pre-tied cages and retrofit applications. After installation they can be visually inspected to ensure quality unlike welding or many other splicing systems.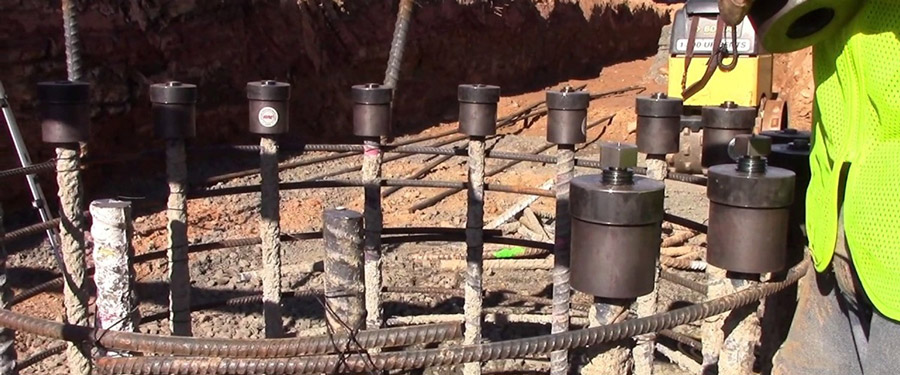 T-Heads
Headed Rebar
HRC 555 headed reinforcing bar can simplify rebar details, reduce congestion while improving concrete consolidation, and lower the in-place costs compared to conventional methods. They are building code compliant while exceeding stress and strain capacities of reinforcing bar. With head thickness less than the bar diameter, detailing and positioning issues are prevented and simplified.

Retrofits
Substitute standard hooks for HRC 670 Series. This T-head requires no special equipment and specializes in being installed in the field. They are designed to meet and exceed any requirements for tensile properties and head bearing area.