Cage Fabrication
Dimension Fabricators is the industry-leading manufacturer of rebar cages. We specialize in large, complex, and difficult rebar assemblies.
Dimension Fabricators has established itself as the industry-leading manufacturer of rebar cages. Our team of engineers, drafters, operators and technicians combine to manufacture robust cages that are guaranteed to be correct and are delivered to your job site on time. Dimension's own CAGE-RITE® system (US Patent No. 8387329) has transformed the cage manufacturing process. The CAGE-RITE® system insures that any cage is round, resists racking, and conforms precisely to all dimensional tolerances. Ask for CAGE-RITE® by name on your next drilled shaft project. Dimension's attention to details like these will add up to big savings on your project.
Bridges
At Dimension Fabricators we specialize in large, complex, and difficult rebar assemblies. Dimension can manufacture and deliver cages with diameter up to 11'-08". With our fleet of dedicated trucks, skilled drivers, trailer units and permitting staff, the length and weight of cages we can deliver in one piece is almost unlimited.
Dimension is equipped to install and plumb drilled shaft cages with CSL Instrument Pipes and O-Cell Load Test Devices when required. When a similarly equipped cage arrives on your job site, the only thing left to do is place it in the excavation.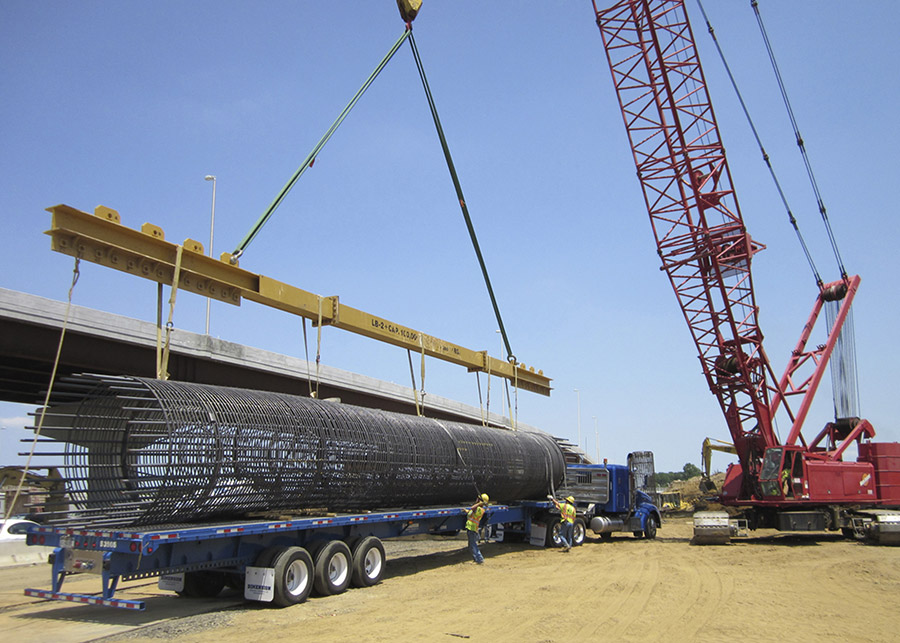 Transmission Lines
We know that your transmission line projects are always short on space and even shorter on time. By ordering a manufactured cage from Dimension Fabricators, you won't need to devote any space on the job for rebar lay-down or cage assembly. We will bring the cage to your site ready to be dropped in the hole. Our CAGE-RITE® system is designed to provide ample space for concreting and any embedded items. There will be no need to remove extraneous bars blocking the way – especially while the cage is on the hook.
Welded Cages
Dimension Fabricators operates two automated cage welding machines capable of producing cages of unlimited length and from 0'-06" up to 5'-00 diameter. These machines can produce cages for structures ranging from pipe bollard foundations to interstate highway bridge piers. All operators are certified welders according to AWS D1.4 Structural Welding Code – Reinforcing Steel. Cages manufactured by welding are produced quickly and precisely. The diameter, spiral pitch and length are computer-controlled. The welded construction is robust and you can be assured that cages manufactured by welding can withstand the rigors of job site handling and placing. The speed and efficiency of welded cage manufacture means savings on your projects.
Pier Cap Cages
Dimension can manufacture and deliver pier cap cages to your job site ready for concrete. Construction of a complex pier cap cage can consume considerable labor, space, and equipment on the job site. Our team of engineers and technicians will work with your personnel to find solutions for any difficult rebar arrangement. When Dimension manufactures a pier cap cage, we assume responsibility for the finished product that can be picked and placed in the form as soon as it arrives on the project site.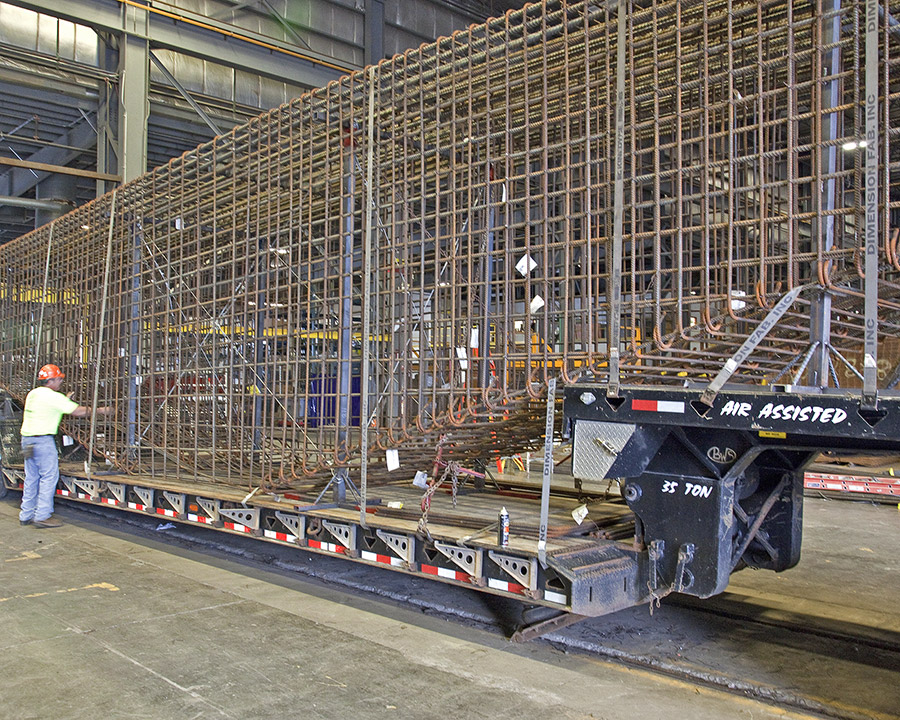 Welded Mats
Dimension can manufacture welded bar mats in any configuration you can show on paper. Whether you have pier & footing foundations for an electrical utility, thousands of square feet of footing mats under a retaining wall, or supports for subway tunnel sections, we can manufacture and deliver according to your exact specifications.
Duct Bank Cages
Manufactured duct bank reinforcing assemblies will greatly expedite production in the field. Dimension can produce any type of duct bank cages at custom lengths to suit your needs. Bar intersections are welded so the cage is rigid and resistant to deformation. Provisions are made for overlapping the continuous bars. All cages are made in two halves such that the bottom half is placed in the excavation, the duct bank is then laid inside the cage, and then the top half of the cage can be placed on top. This custom modular construction means you will handle just two pieces to reinforce up to 30 feet of duct bank.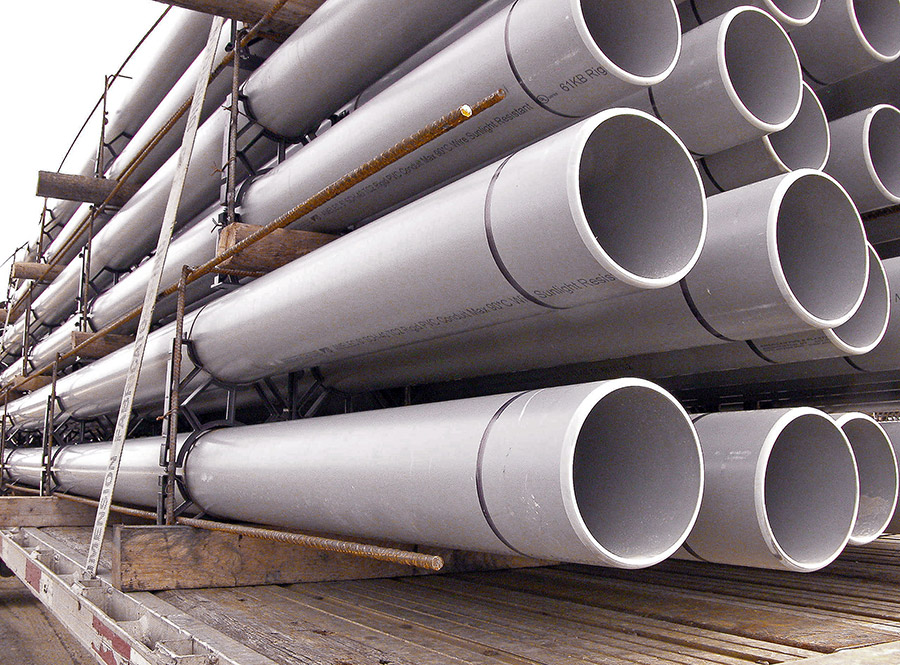 CAGE-RITE™
The Cage-Rite Cage Bracing System (US Patent 8387329) transforms the drilled shaft cage manufacturing process. Comprised of robust steel rings with semi-circular detents that positively locate every vertical bar and CSL pipe; the vertical bar spacing and alignment are controlled to just a few thousandths of an inch. The CAGE-RITE System ensures every cage:
Is exactly round
Resists loads imposed during construction, transportation, lifting, and placement
Conforms precisely to all dimensional tolerances
Save time and enhance job site safety of by incorporating Dimension's Cage-Rite Cage Bracing System into your drilled shaft or column rebar cages.
Bring the precision and safety of Dimension's manufactured cages to your site-built assemblies, contact Dimension Fabricators about using the Cage-Rite System on your next project.
For more information contact Greg Stevens.